On Sunday July 30, 2023 the North Texas Amateur Baseball League will hold its annual All Star Games benefiting the Scottish Rite for Children at Riders Field in Frisco, Texas. Riders Field is home to the Frisco RoughRiders, Double A affiliate of the Texas Rangers and is consistently ranked as one of the best ballparks in America. We are very excited about the ongoing partnership with the RoughRiders.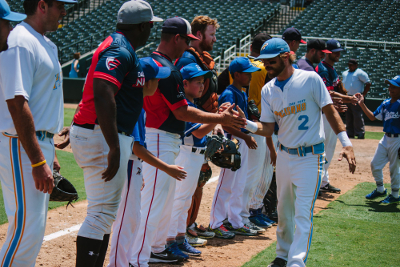 The North Texas Amateur Baseball League (NTABL) and Scottish Rite for Children continue to thank you for your generous contributions to the hospital's mission to provide treatment for children with orthopedic conditions, sports injuries and fractures, as well as certain related arthritic and neurological disorders and learning disorders, such as dyslexia, regardless of a patient's ability to pay.
Participation by league members in the event is voluntary and up to each individual team. This year teams raised money through ticket sales and soliciting donations from friends, family and business associates. Donations come from small businesses and large corporations from all over the globe as well as league members. Each game is complete with a ceremonial first pitch thrown out by a hospital patient, along with his/her family, national anthem and post-game MVP recognition. All patients receive a game ball as well as autographed baseballs from both teams. So far the league has raised over a Quarter of a Million Dollars to help kids (and families) heal. If you missed out, you can add more or encourage your company to donate and maybe we can do more. Please go to to the link below to make a donation http://community.tsrhc.org/NTABL_Donation ASAP. Share too!!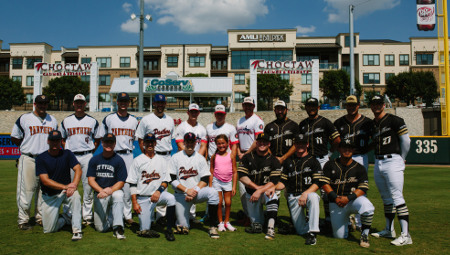 For those of you who sponsor the event each year, please accept our heartfelt thanks and, if we could be so bold, please add our Charity All Star Game to your annual budgets! For those of you who donated individually you are AMAZING and if you need anything to help get matching from your company or want other information please reach OUT TO Scottish Rite for Children Development office. at https://scottishriteforchildren.org/get-involved/sponsor-events.
Finally, if you need anything from us: receipt for taxes, a tour of the hospital or more info on playing ball and our charity efforts at the NTABL please let us know and we will GET IT DONE!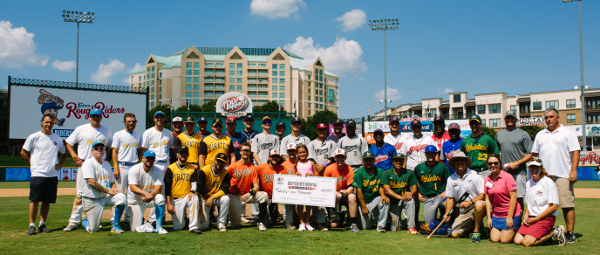 ---
Past Projects
The NTABL emphasizes philanthropy and social responsibility among its members. Each year we focus on a charity for fundraising and a volunteer event to allow our members to give back. Below are the recent organizations, activities or events sponsored or co-sponsored by the NTABL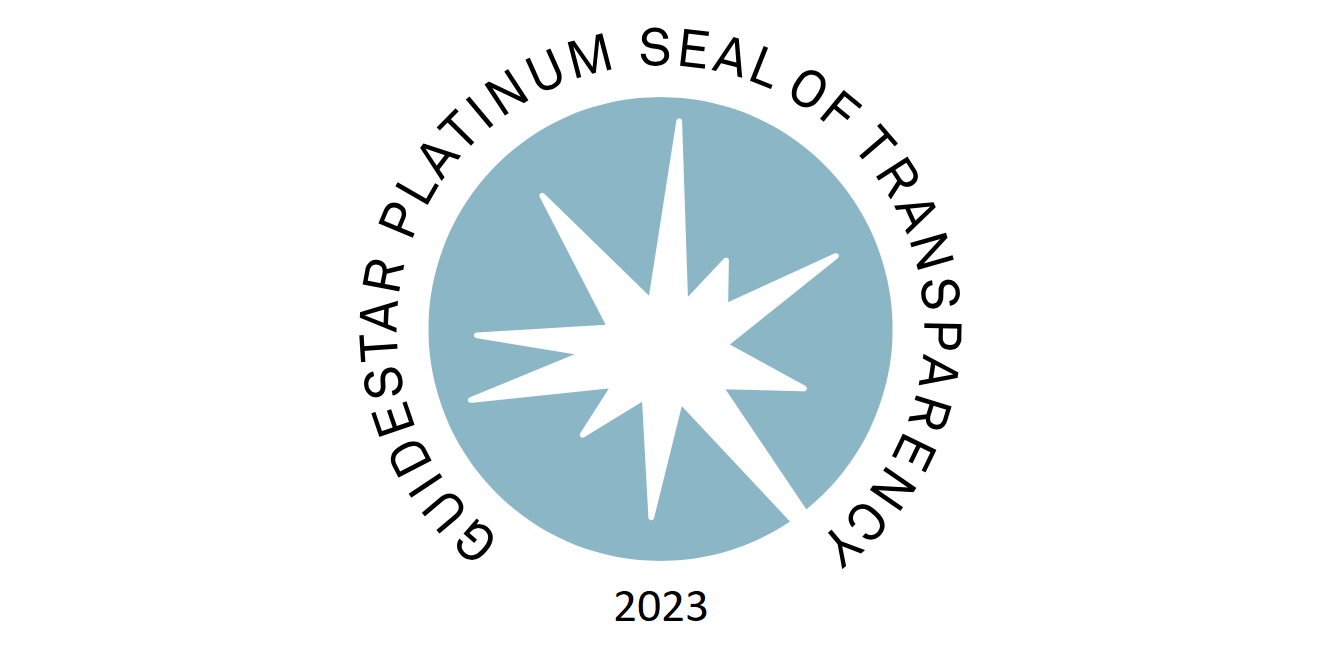 Volunteers and League Members
chip in for the annual Reverchon
Roundup.

Prou

d fundraisers for the


Louisille Sluggers Warriors
National Amputee Baseball Team


Fundraising for the

Texas
Scottish Rite Hospital for Children
in

partnership with the




Frisco Roughriders

Dallas Fire and Rescue vs.




Dallas Police Department




for benefit game for The




Friends of Reverchon Park

House build with Habitat
for Humanity in
partnership

with the Texas
Rangers

Playground builds in




Reverchon Park with




the Dallas Cowboys and




Kaboom!

Annual Golf Tournament




benefitting the Prostate




Cancer Foundation

Partnered with the City




of Dallas, TSRHC to




Clean up Reverchon Park

Partnered with Dr




Pepper, KidMania, the




City of Allen to build playgrounds

Partnered with the YMCA




of Metro Dallas to build




playgrounds

Provided baseball
shirts for some of our
troops fighting overseas.
Players opened their homes
and made room on their All Star
teams to PSO Chinese Youth
Baseball Exchange visiting the
US in a cultural and religious
exchange.


Partnered with the Texas
Airhogs to provide Boys and
Girls Clubs of Arlington kids
and family a Summer-time
fun night at the Ballpark!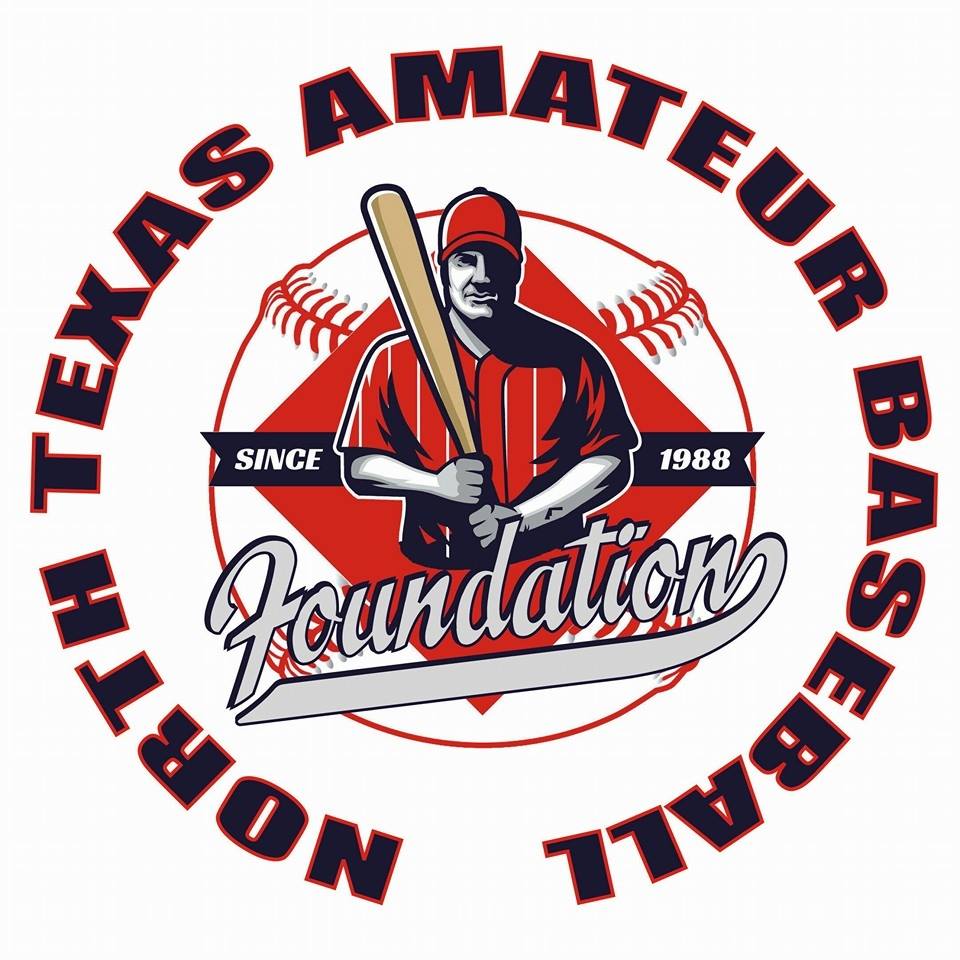 North Texas Amateur Baseball Foundation is headquartered in Dallas, TX, and is a 501(c)(3) organization. EIN: 47-4454703. Donations are tax-deductible. The IRS NTEE classification code is N63, Baseball, Softball within the Recreation, Sports, Leisure, Athletics category. The IRS ruling year for tax exemption was 2015.
(Source: IRS Business Master File and Form 990)